The Finnish Association of Architects is delighted to announce the five designs shortlisted for the 2023 Finlandia Prize for Architecture. The shortlisted projects are as follows: Punavuori Stables in Helsinki, Chappe Art Museum in Tammisaari, Lauttasaari Church refurbishment in Helsinki, Martta Wendelin Day Care Centre in Tuusula and Dance House Helsinki in Helsinki. This year will see the prize presented for the tenth time, with the winner due to be announced on 2 October.
The winner of this year's Finlandia Prize for Architecture will be chosen by Anna Herlin, a fifth-generation member of the family that runs elevator and escalator manufacturer KONE Corporation. Through her work, Herlin is committed to delivering greater sustainability for all: the Tiina and Antti Herlin Foundation headquarters at Puistokatu 4 in central Helsinki comprise a wooden villa that has been sensitively refurbished to offer a working space and social hub for researchers, artists and small businesses working towards a more environmentally sound future.
Shortlisted projects share a commitment to preservation and repair and demonstrate an awareness of architecture's role in promoting wellbeing
The Finlandia Prize for Architecture shortlist is chosen by a pre-selection jury appointed each year by SAFA.
"The pre-selection jury identified five projects which are all distinguished by their commitment to subtle and insightful design as well as excellence in building. Notably, a significant number of the projects put forward for nomination this year were infill or refurbishment projects. The shortlisted projects demonstrate that, with skilful design, long-serving buildings in need of repair can be restored to their former glory and adapted to new uses to ensure that they continue to meet the needs of the people that use them. The shortlisted new build projects show the sheer diversity found in wood architecture and the significant technical advances that are being made," said Professor Rainer Mahlamäki, chair of the pre-selection jury.
"In terms of their intended uses, these projects encompass the full gamut of architecture from private homes to care facilities and cultural institutions. In drawing up the shortlist, we wanted to draw attention to the fundamental purpose for which the Finland Prize for Architecture was created. It exists to promote the appreciation of high-quality architecture and highlight its importance in promoting wellbeing for all," Mahlamäki added.
Rainer Mahlamäki was joined on the pre-selection jury by architects Sarlotta Narjus and Harri Hautajärvi, along with Professor Jenni Reuter. The secretariat was provided by Paula Huotelin, former Secretary General of the Finnish Association of Architects.
Punavuori Stables resonates with history
Stood in the middle of one of Helsinki's distinctive enclosed blocks is Ajurien talli, a former stable block newly converted into 18 new apartments in a style that has sought to retain as much as possible of the buildings historic equine feel. The spaces are laden with distinctive character and alive with layers of history. All the apartments are built across two floors, which has allowed the designers to retain an existing mezzanine floor. The building also features reclaimed and refurbished doors, windows, bannisters, stairs and storage containers.
Any new additions have been sensitively chosen with the utmost respect for the building's past. The colour of the facade, too, is judiciously picked with careful reference to the surrounding buildings. The red used on the window frames is the original shade. Punavuori Stables is a first-rate example of how, with careful design and execution, new uses can be found for old buildings with protected status without jeopardising their original character.The refurbishment project was run by Avarrus Arkkitehdit: Pauli Siponen (lead designer and structural engineer), Noona Lappalainen (project architect), Atte Aaltonen and Robert Hanson.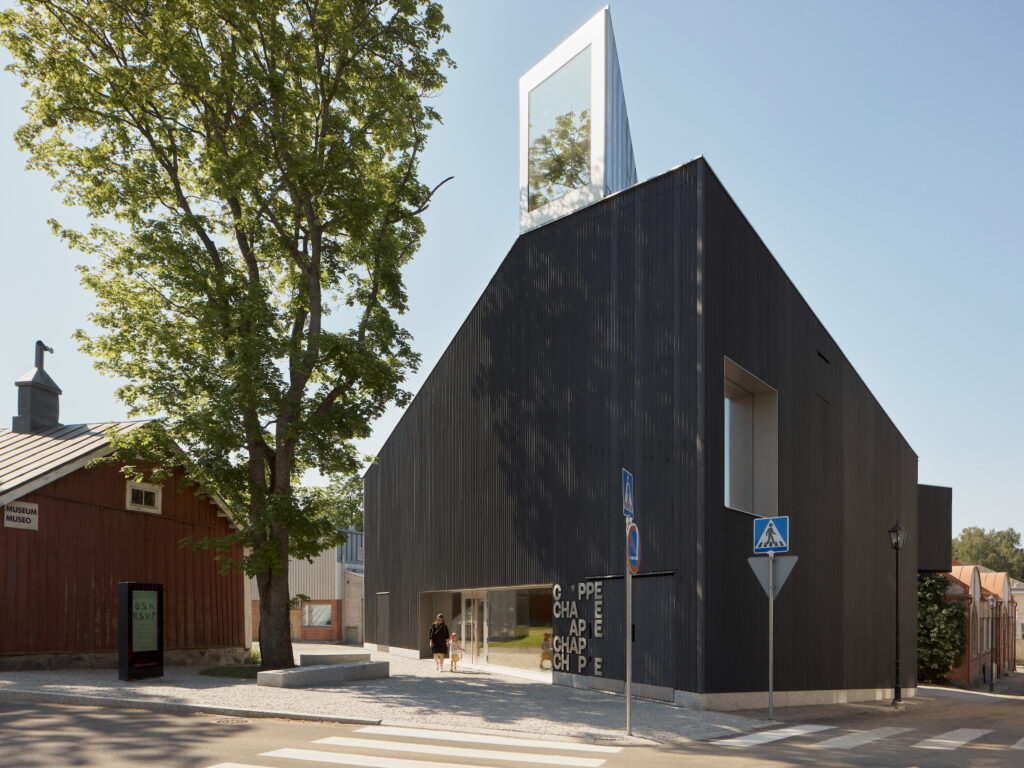 Chappe Art Museum – a well-judged and modest addition to a historic city
Chappe Art Museum, completed in spring 2023, is both a boldly modernist building and a well-judged and respectfully conceived addition to the historic, multilayered and modestly proportioned structures that make up Tammisaari's existing building stock. As seen at Helsinki's Amos Rex, some of the museum is located on a subterranean basement floor that also provides access to Raasepori Museum's main building.
Chappe has been built using wood and concrete. Its mass, character, facades and detailing are carefully and skilfully considered and have been chosen with this particular building in mind. The facades are executed in bias cut spruce cladding finished with a grey paint, the angular shapes providing texture and patterning to the building. Wood is very much seen and felt throughout the interiors too, lending to them a sense of calm and acoustic harmony. Chappe is a significant new addition to Tammisaari's cultural offering and appeal and will delight visitors and residents alike.
Chappe Art Museum was designed by JKMM Arkkitehdit. The lead designer was Asmo Jaaksi with Gerrie Bekhuis as project architect.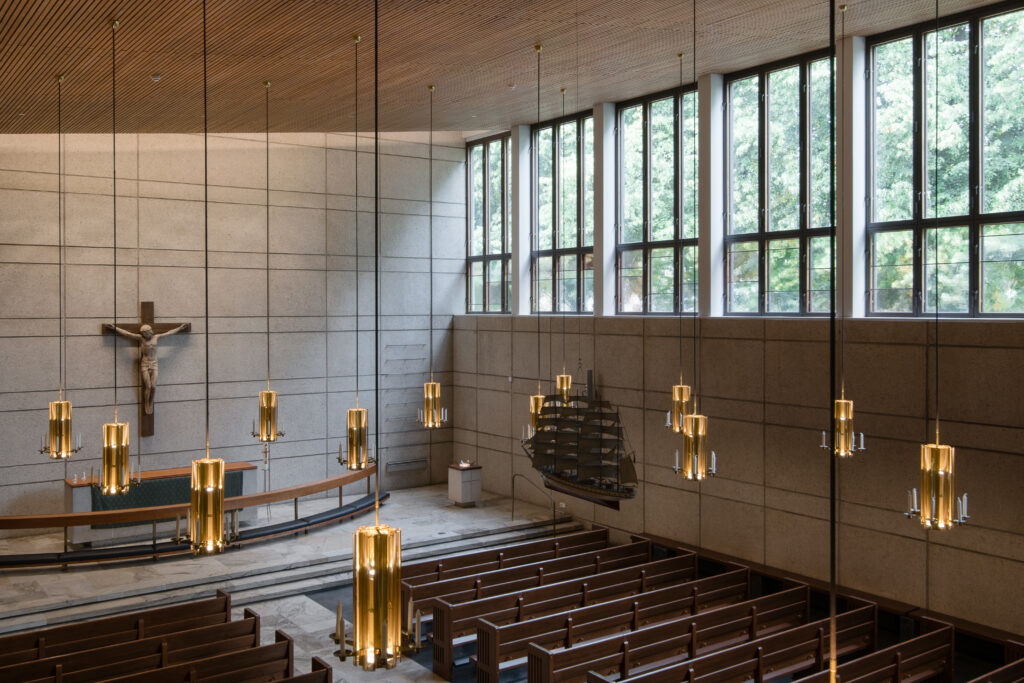 Refurbishment delivers enhanced architectural integrity and exemplary new functionality for Lauttasaari Church
Designed by Keijo and Marja Petäjä in the 1950s Rationalist style, Lauttasaari Church is an excellent example of an architectural tradition where the most imposing building in any village, town or city is located on a central and elevated site to maximise its impact. This project is characterised by the scale and challenge of the work involved as well as the commitment to considering the needs of the building's users and to delivering a space that truly serves its intended, present-day purpose. The building has been refurbished with a subtle and meticulous approach underpinned by consummate professional skill.
Particular care was taken with the spatial requirements of the local day-care centre, after school club and Scout troop. The ground floor extension was complemented with a cafe and restaurant, while the former vicar's office was converted into a new space for the local conservatoire with view to ensuring that more frequent use is made of the facilities available. Lauttasaari Church, which enjoys protected status under Finnish heritage law, is now even better placed to serve the local community.
The refurbishment project was led by Riina Palva (lead architect) and Anna Puisto (lead designer) of Verstas Architects with project architects Irma Verhe and Tuula Mäkiniemi.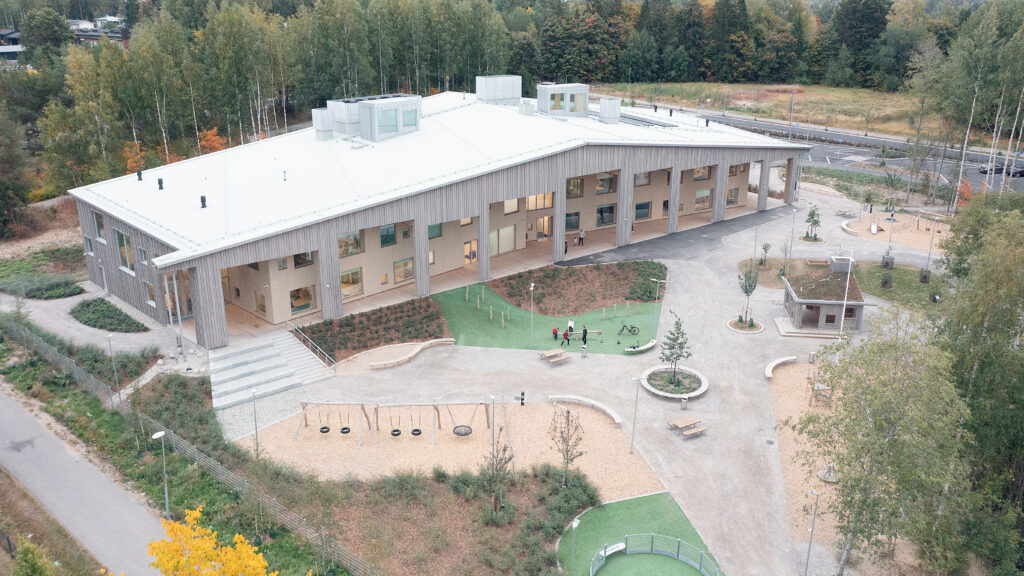 Martta Wendelin Day Care Centre – leading the way towards a more carbon neutral built environment
Completed in 2022, Martta Wendelin Day Care Centre is a wooden building designed to provide facilities for around 200 children. Its location is skilfully chosen to account for the noise and pollution emanating from the busy Tuusulanväylä motorway nearby. The interiors are oriented to the south to make the most of the wooded setting and natural light. A handsome canopy structures creates a setting for outdoor play, come rain or shine.
The spatial arrangements are carefully thought through and reflect the importance of small group spaces in providing safe and nurturing environment for the young building users. Cross-laminated timber has been chosen for the external and internal walls as well as all intermediate walls, with the material serving as a carbon sink for the building. The day-care centre is an excellent example of how to transition towards a more carbon neutral built environment.
The Martta Wendelin Day Care Centre was designed by Frondelius Keppo Salmenperä Architects (AFKS): Jari Frondelius (lead designer), Jaakko Keppo and Juha Salmenperä with project architects Mikko Liski and Tommi Kantanen.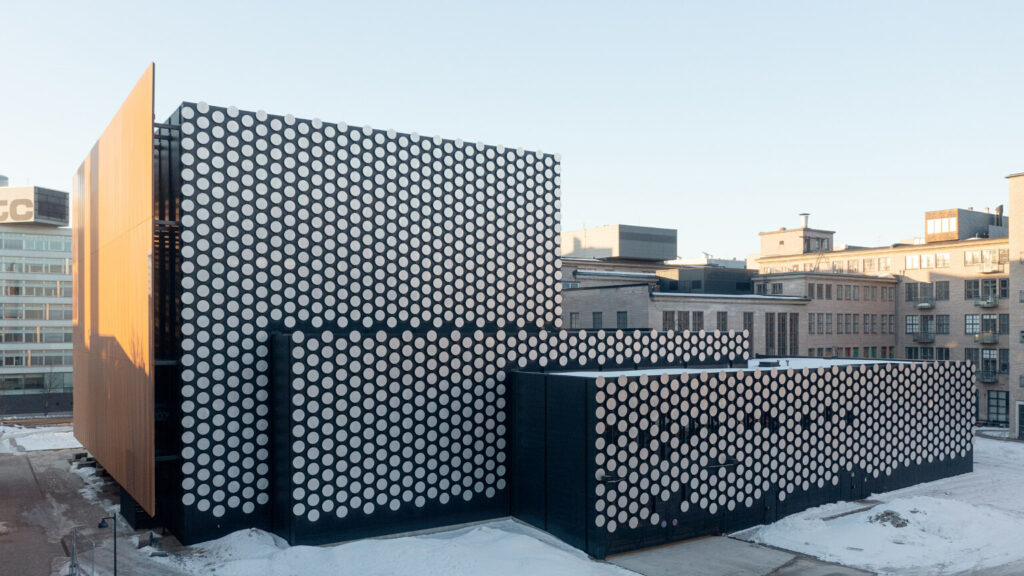 Dance House Helsinki – a first-rate home for the dancing arts
Dance House Helsinki, which opened in February 2022, is the first event and performance space dedicated to the dancing arts in Finland. Dance House Helsinki has been built as an extension to the eastern end of the city's Cable Factory cultural centre with some of the facilities based within the former factory building itself. Viewed from the outside, Dance House Helsinki gives the impression of an enormous piece of industrial machinery that has been added to the historic manufacturing facility. In contrast with the Cable Factory's brick facades, Dance House Helsinki is clad in metal throughout.
The Cable Factory's vast and soaring Glass Courtyard, created by glazing in a section of the adjacent outdoor area, serves as Dance House Helsinki's entrance and foyer. The Glass Courtyard is also a social space for the Cable Factory as a whole and provides access to the museums that are based here. The facilities include two black box theatres complete with state-of-the-art performance equipment. Dance House Helsinki offers an excellent setting for the dancing arts.
The lead architects were Teemu Kurkela (JKMM) and Pia Ilonen (ILO) as part of a collaborative venture by JKMM and ILO architects. The project architects were Harri Lindberg (JKMM) and Kati Murtola (ILO).
Finlandia Prize for Architecture marks tenth anniversary in 2023
The Finlandia Prize for Architecture is awarded for the design or renovation design of an outstanding new building or building complex that has been completed within the past three years. The prize may be awarded either to a Finnish or foreign architect, or to an architectural firm for a project designed for a location in Finland; or to a Finnish architect or architectural firm for a project designed for a location abroad. The purpose of the prize is to promote the appreciation of high-quality architecture and to highlight the importance of architecture in generating cultural value and increasing well-being.
This year marks the prize's tenth anniversary. The inaugural prize was presented in 2014 to the POLIN Museum of the History of Polish Jews in Warsaw, designed by Finnish architects Lahdelma & Mahlamäki.
The Finnish Association of Architects (SAFA) is a non-profit professional organisation engaged in active efforts to promote architecture and high-quality living environments. Established in 1892, SAFA has approximately 3,100 members, all of whom are architects with a university degree. Additionally, SAFA has around 600 student members.