The finalist for Finlandia Prize 2015
OP Head Quarters
Information
Architectural design
JKMM Architects
Main contractor
Haahtela-rakennuttaminen
Location
Helsinki, Finland
In short
OP Financial Group has concentrated many of its operations under one roof within a block along Teollisuuskatu street. The result is a clear-cut, light-filled and inspiring place to work.
Statement of the pre-selection jury
OKOBANK has brought its functions together in a single large block along Teollisuuskatu. The new construction complements the existing buildings on the block, which was wholly revitalised during the course of construction. (One further new building will later replace the office building currently occupying the south corner of the block.) The previously rambling entity is now denser and more unified. The design is based on JKMM's winning entry in the design competition.
The revitalisation project fuses the old and new elements on the block into a single entity. This did not mean creating a visually unified appearance for the block, however: the old and new parts differ in design and the preserved historical layering enriches the cityscape. The eight-storey block lines and strengthens the broad space of Teollisuuskatu, a busy thoroughfare. It also serves as the outer limit of a densely built series of city blocks, beyond which the small-scale residential district of Vallila with its wooden detached houses begins.
The large building volume is pierced by triangular openings or 'cracks'. These create an interaction between the inside and outside of the block, the main entrance being located at one of these 'cracks'. The large triangular space also lends a unique appearance to the office building – its shape being repeated in the folds of the building masses.
At the centre of the block there is a high, well-lit space along which there are conference rooms, restaurants, cafés and wellbeing services (e.g. a gymnasium). Roofed with glass, the space forms a circular indoor street that runs around the entire block. The spatial arrangement is clear and makes the complex easy to navigate, like a mini-city. The office floors have a view of the central space, being laid out as modern open-plan offices, but with internal divisions that break up the industrial-hall appearance that such spaces often manifest. The design combines openness with flexibility and functionality. Parking, machinery, storage and maintenance facilities are located under the block on several levels.
Though large and complicated, the block is outlined in broad strokes, resulting in a clear, well-lit and inspiring workplace environment. The large-scale outline is wonderfully complemented by carefully considered and well executed details. Even many of the basic features – such as the glass ceiling of the central foyer and the metal wall panellings – are insightful and innovative. The design is precise and simple, and as such crystal-clear.
The finalists of 2015
The finalists for the Finlandia Prize for Architecture 2015 were Kangasala Arts Centre, Merenkulkijanranta, OP Head Quarters, Opinmäki School Complex and Puukuokka.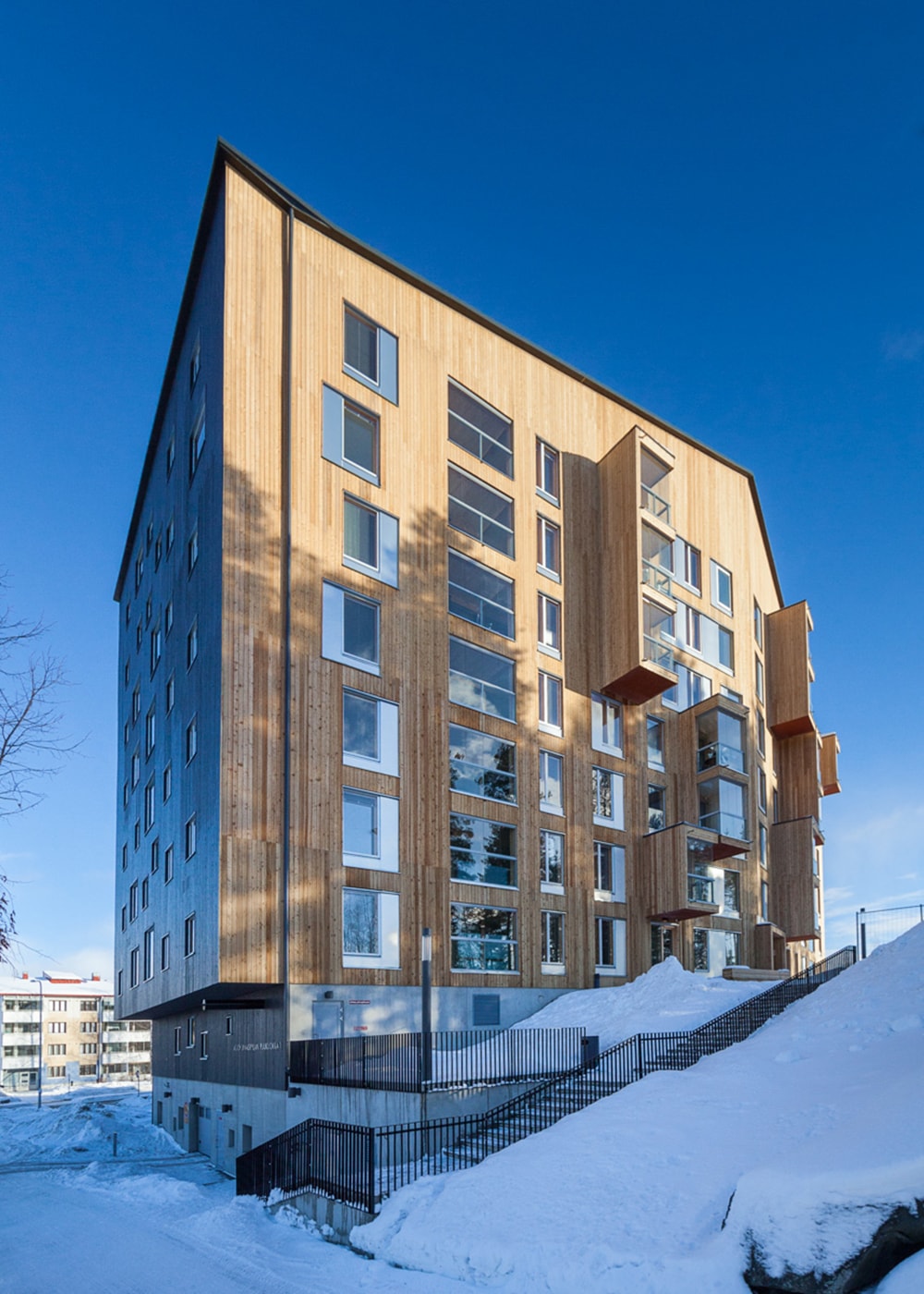 The winner of Finlandia Prize 2015