The winner of Finlandia Prize 2015
Puukuokka
Information
Architectural design
OOPEAA Office for Peripheral Architecture
Main contractor
JVR-rakenne Oy
Location
Kuokkala, Jyväskylä, Finland
In short
Puukuokka block of flats was completed in 2014 in the suburb of Kuokkala in Jyväskylä. Situated behind the church, three timber-framed blocks of flats have been designed, the first to be completed is Puukuokka. The frame of the block is built from solid wood and wooden CLT panels.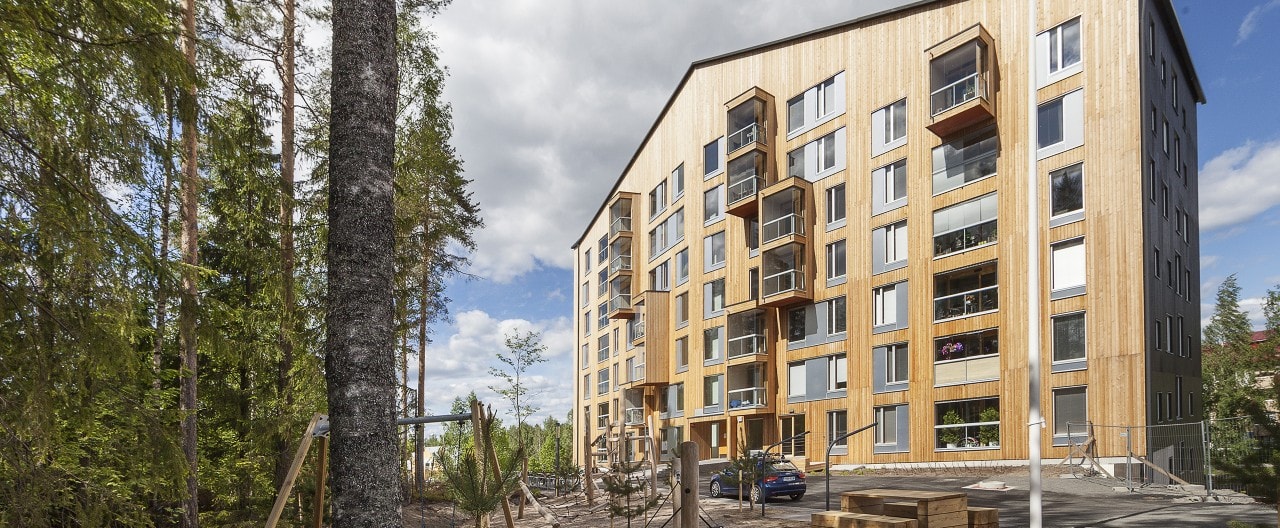 Statement of the pre-selection jury
Puukuokka advocates the use of wood in residential construction in a new and fresh way. The design of this eight-storey wood building forms a coherent whole while demonstrating that it is possible to create original and characteristic housing design using new production and manufacturing methods.
The slightly bent shape of the building and its broad pitched roof create an appearance of solidity in a positive way. Although large, the building fits naturally onto its site alongside a slope. The dark outer shell on the street side protects the elevated courtyard, creating an intimate and human space cradled by the high building mass. As a contrast to the dramatic streetside elevation, the courtyard elevation is in untreated spruce and punctuated by a series of protruding balconies. This contrast in moods works well and decisively designates the public and private sides of the building. While the overall design of the building is timeless in style, it also represents a new approach to housing design.
All the apartments are made up of prefabricated room elements assembled on site. Careful planning has resulted in interesting floor plans with most apartments dominated by a recessed balcony open to the room beyond through a wall wholly made of glass. The apartments are stacked into three, eight-storey towers, between which there is a well-lit foyer as high as the entire building. The decision to make this a semi-heated space allowed an exceptionally generous dimensioning. Cathedral-like in scale and ethereal in mood, the foyer offers a vista to the landscape beyond through all three elevations – a striking architectural feature at the very heart of this residential building.
Puukuokka shows how systematic, skilled and creative design can produce original housing construction of a high quality. It sets itself apart from the mainstream of current high-rise construction both architecturally and technologically, and demonstrates just how rich and varied in design housing construction can be in Finland.
The finalists of 2015
The finalists for the Finlandia Prize for Architecture 2015 were Kangasala Arts Centre, Merenkulkijanranta, OP Head Quarters, Opinmäki School Complex and Puukuokka.