The finalist for Finlandia Prize 2021
The Urban Environment House
Information
Architectural design
Lahdelma & Mahlamäki Architects / Ilmari Lahdelma (principal designer), Teemu Seppälä (project architect), Minja Hildén (responsible interior architect), team members Maritta Kukkonen, Minna Lahdelma, Mikko Lahti, Tomoyo Nakamura, Wing-Hang Chan, Seija Serovuo, Olli Aarnio, Mia Salonen, Joona Hulmi, Panu Härmävaara
Main contractor
Skanska Talonrakennus Oy
Lahdelma & Mahlamäki Architects
Principal designer: Ilmari Lahdelma
Project architect: Teemu Seppälä
Responsible interior architect: Minja Hildén
Team members: Maritta Kukkonen, Minna Lahdelma, Mikko Lahti, Tomoyo Nakamura, Wing-Hang Chan, Seija Serovuo, Olli Aarnio, Mia Salonen, Joona Hulmi, Panu Härmävaara
Assistants: Jonne Ahvonen, Esa Hotanen, Timo Jyrinki, Marek Grodzicki, Anne Harju, Jan Krupa, Shaun Leung, Ewa Mierzwa, Piotr Panczyk, Maija Poukka, Leila Räsänen, Marko Santala, Paulina Sawczuk, Julius Seniunas, Heidi Siitonen, Jalo Sippola, Kristiina Suoniemi, Tarja Suvisto, Olli Tallbacka
Main contractor: Skanska Finland
In short
Built in the Verkkosaari district of Helsinki in 2020, the city council's new Urban Environment Division headquarters have been designed and built to accommodate all of the division's departments, including workspaces and customer service facilities, under the same roof. The design succeeds in adding a new visual richness to the surrounding urban space. A series of arcades and pillared walkways anchor it firmly into place. The architects make bold and accomplished use of brick, and the end result is a truly impressive building, archaic yet modern.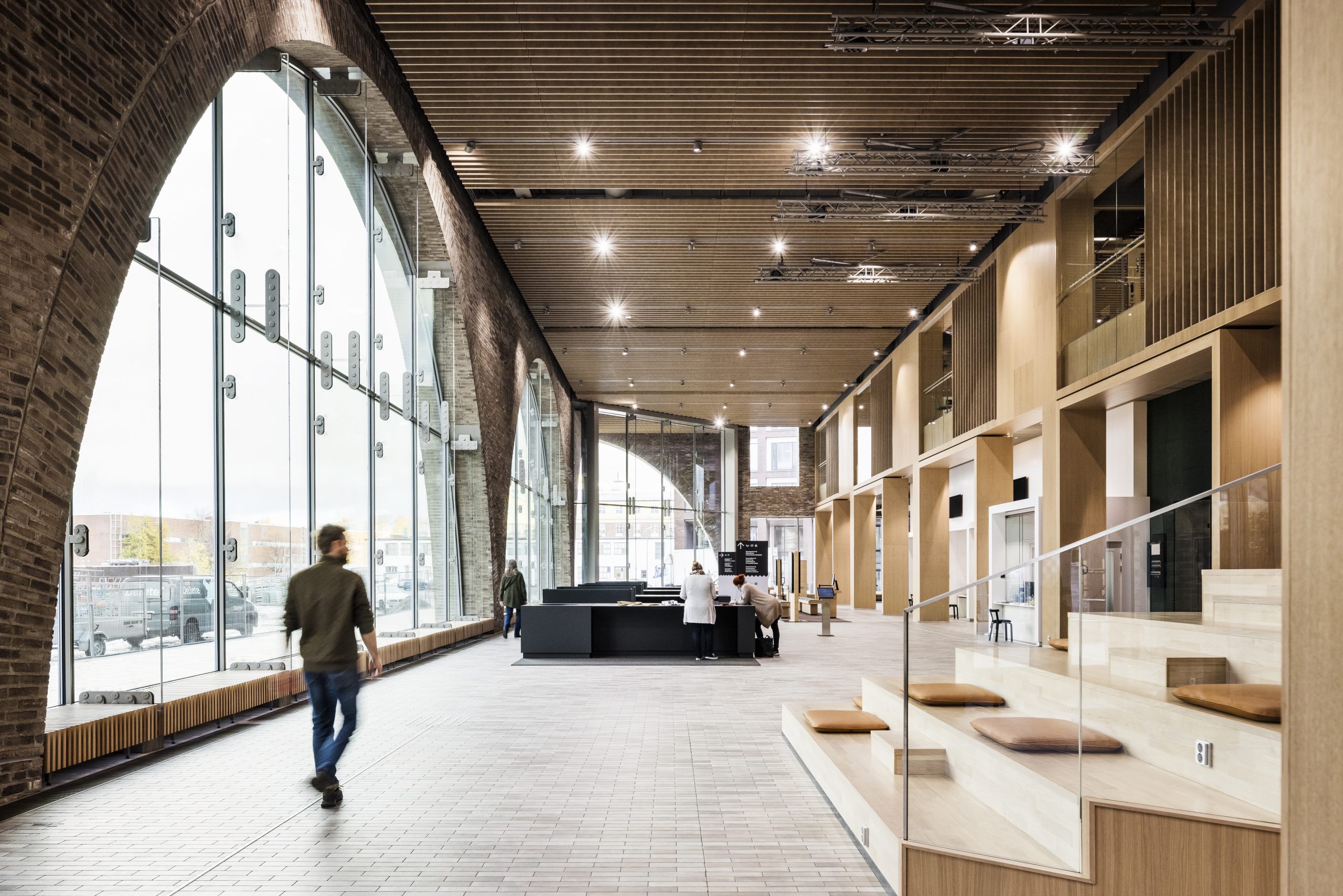 Statement of the pre-selection jury
Kaupunkiympäristötalo, the new headquarters for Helsinki city council's Urban Environment Division, brings together the city's built environment services and related customer services under one roof. The new building is in Verkkosaari, a neighbourhood that is currently undergoing significant development. Intended as a symbol for collaboration and joint working, Kaupunkiympäristötalo was paradoxically completed amid a global pandemic, and staff are now only gradually beginning to move into their new building.
The design principles that inform the building were laid down in the detailed plan and overseen by council representatives during the project planning phase. The building was designed by Ilmari Lahdelma, Teemu Seppälä and Minja Hildén at Lahdelma & Mahlamäki.
Featuring seven above-ground floors which open into three different directions, the design is characterised by its lively articulation which visually enriches the surrounding area. A cut has been made into the otherwise uniform urban block structure to create an open square that highlights the building's status as a public space. At street level, the building anchors into place through a series of arcades and pillared walkways. The entrance is sheltered by these structures. From the fourth floor, the volume splits into distinct units interspersed with terraces that open out onto the street.
Internally, the airy and spacious public areas stretch across two floors and are easy to navigate. The transition from public to restricted and private spaces is smooth and well thought-through. The office spaces are designed with a collaborative, communal feel in mind.
The materials chosen both externally and internally are traditional and hardwearing: brick, copper, glass, concrete and wood. The architects make particularly inventive and accomplished use of brick here. The end result is a truly impressive building, archaic yet modern. It is an excellent addition to Helsinki's new generation of stone buildings. At its finest, it serves as a reminder, to its occupants, visitors and design and construction professionals alike, of the importance of quality and sustainability.
The finalists of 2021
The finalists for the Finlandia Prize for Architecture 2021 were the City of Helsinki's Urban Environment Division headquarters in Verkkosaari, the Fyyri library in Kirkkonummi and Ylivieska Church.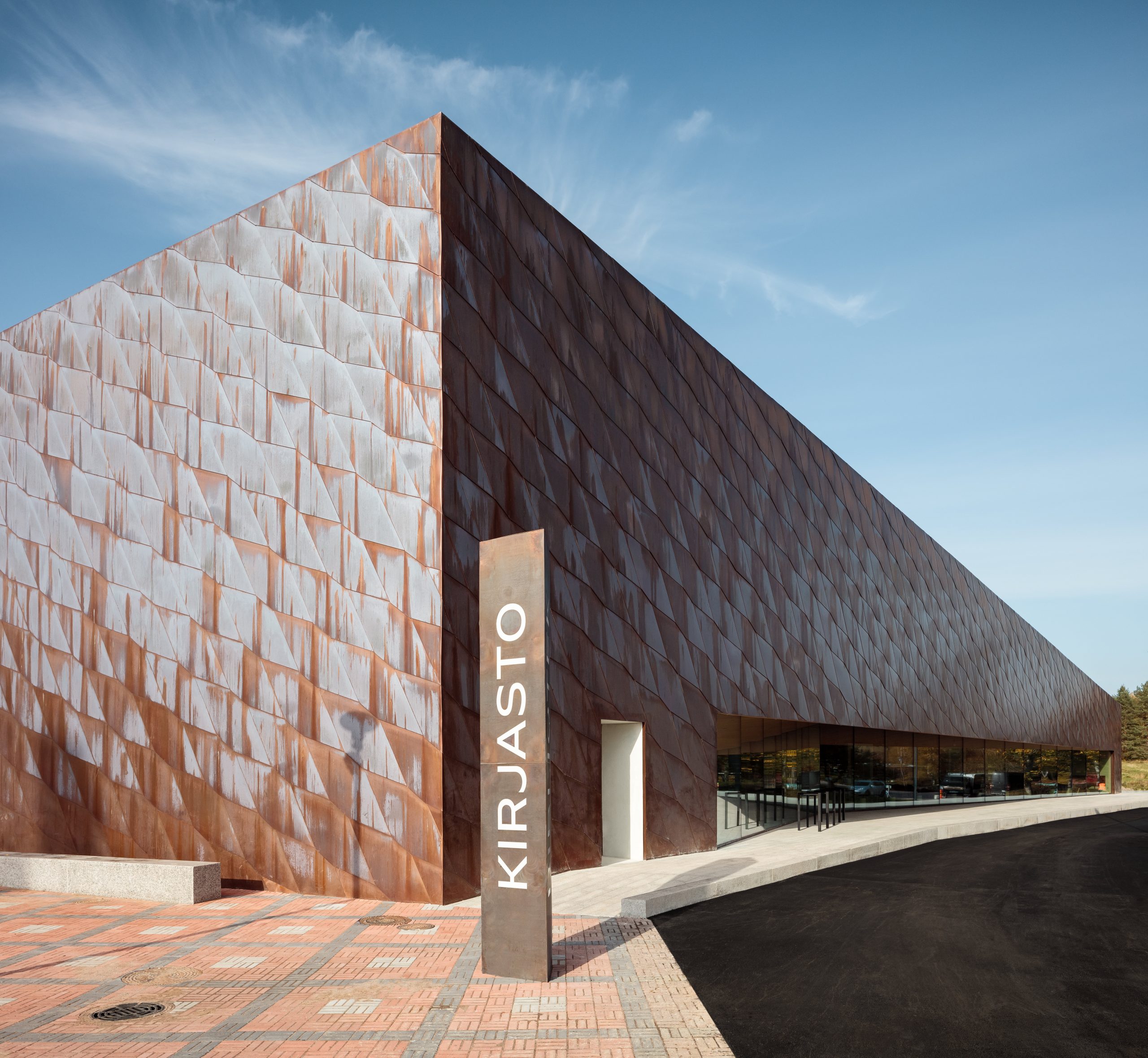 The winner of Finlandia Prize 2021