The winner of Finlandia Prize 2014
Museum of the History of Polish Jews
Information
Architectural design
Lahdelma & Mahlamäki Architects, local collaborator Kurylowicz & Associates
Client
The city of Warsaw, the Ministry of Culture and National Heritage of the Republic of Poland
Main contractor
Polimex – Mostosal SA
In short
The Museum of the History of Polish Jews in Warsaw opened its doors to the public in spring 2013. The core exhibition of the museum, which illustrates the thousand-year history of Polish Jews, is planned to open in autumn 2014. The museum is located in the very heart of Jewish Warsaw, which the Nazis turned into the Warsaw ghetto during the Second World War. The controversial location required special discretion from the architects.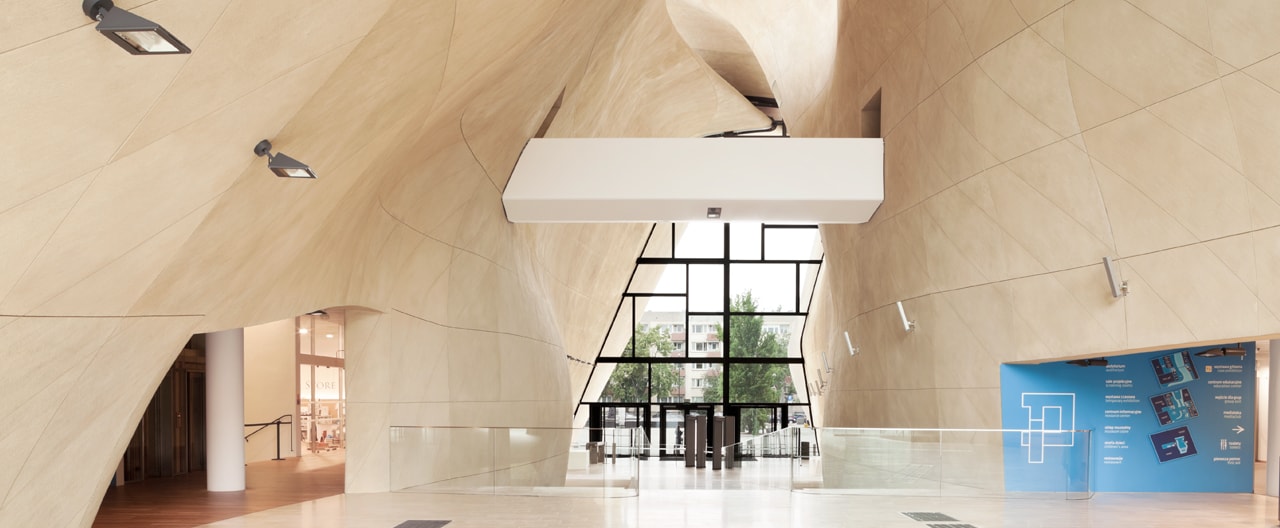 Statement of the pre-selection jury
In the Museum of the History of Polish Jews, symbolism is embodied in the architecture without unnecessary rhetoric. The restrained exterior of the building respects the history of the site in the heart of the wartime Warsaw ghetto, providing a reverential frame for the exhibition on the history of the Polish Jews, still under construction. The building is paired with the adjacent Monument of the Ghetto Heroes, proving that architecture is capable of empathy.
The free-form main hall is a contrast to the restrained exterior, symbolically leading the visitor towards the future. The free geometry of the main hall was inspired by the Hebrew expression "yum suf", which refers to the gorge of the Red Sea during Exodus. The organic formal language of the load-bearing walls of the main hall was an extreme challenge for both design and construction, successfully tackled without compromise. The outcome, combining the best international expertise in steel and concrete construction, also brings together the traditions of prefabrication and handicrafts. The stone in the polished concrete surfaces of the interior is local limestone sand, which tones the atmosphere of the single-material cavernous interior from concrete grey into warm light.
Based on a winning entry in the international architectural competition in 2005, the Museum of the History of Polish Jews continues the series of buildings designed by Finns outside Finland, and manages to update the tradition in an impressive way. The building is a Song of Songs of Finnish excellence, carried out as a result of international cooperation. The high standards and the extensive scope of the project have required exceptional management skills and an uncompromising respect for the original vision. The outcome conveys a universal experience, regardless of ethnicity or creed.
The finalists of 2014
The shortlisted candidates for the first Finlandia prize in Architecture were the Serlachius Museum's Gösta's Pavilion in Mänttä, Kaisa House, the main library of the University of Helsinki, the Museum of the History of Polish Jews in Warsaw and Seinäjoki main library Apila.